It is a calligraphy classroom of calligrapher Hideka Tonegawa. Do you not practice it together?
Welcome To The "Sho" World!
Japanese traditional culture "Calligraphy" ,which is called "Sho(書)" in Japan, will make you very happy!(Japanese Calligrapher Syuuka Tonegawa)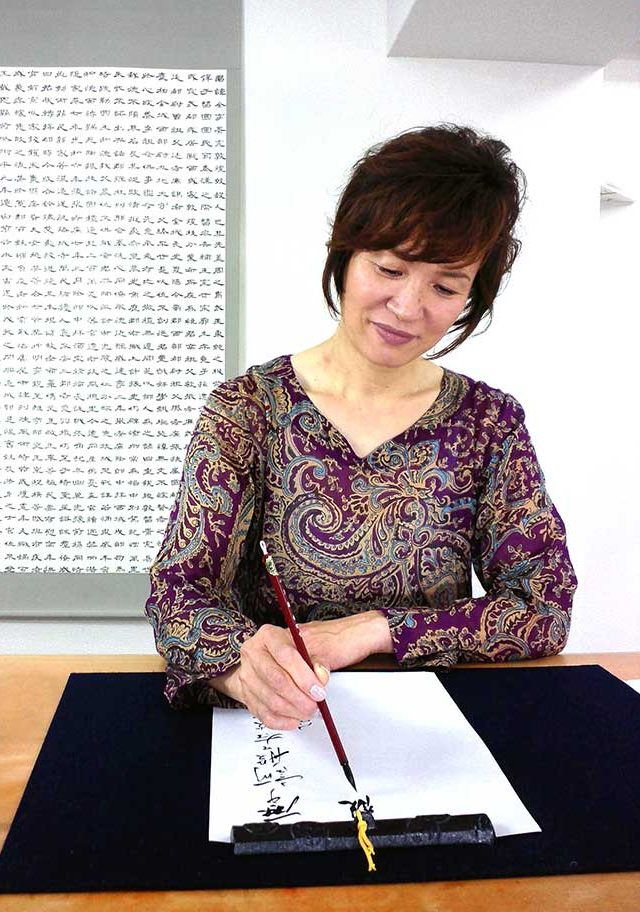 Self-introduction
(Tonegawa syuuka of a japanese calligrapher)
My childhood and what l am now
When I was six years old, my father recommended me to study "Sho" or Japanese traditional calligraphy. Of course I didn't have any knowledge about "Sho" and its skill at all. But even now I remember that I was extremely pleased when my parents praised my childish work by saying "What a wonderful job you've done"! In some cases I had so many hardships that made me feel like discontinuing "Sho" calligraphy. But I didn't quit "Sho". I am proud of having been keeping such a tough work. I am considering at this moment that writing and teaching "Sho" is my true vocation given by god. I feel I have to thank my parents who recommended me to practice calligraphy in my childhood.
"Sho" and "Sho-do"(Japanese calligraphy)
Letters were originally created only for better communication. Ancient Japanese aristocrats have heightened writing letters to the level of "works of art". Those sophisticated style of letters were called "Sho". The activity of pursuing the high level of "Sho" seriously is named "Sho-do". Some famous old "Samurais" were also respected as "Sho" masters. The state of handwriting was delicacy of the samurais as well as the swordsmanship from ancient times.
Handwriting
We are living in the age of Internet which has made many people less use handwriting. The development of information technology is causing the decreased number of people who want to learn "Sho". It is a very sad phenomenon. Even under the circumstances, I am encouraged to recommend people to use their own hands and practice "Sho".
My Students
My "Sho" school has a wide variety of students. Some want to write just beautifully their name and address, others require to study "Sho" deeply, to create unique and artistic works or to be instructors of "Sho" like me. I am making efforts to meet those various requirements of my students, according to their levels.
My hope
"Sho" is not only a beautiful and traditional Japanese art but also the really practically useful technique to describe yourself. I am strongly determined to expand abroad this fantastic art "Sho". If you have any questions, please don't hesitate to ask. I am always at your service. …A japanese calligrapher Syuuka Tonegawa
ps: My pet
His name is "CHAGE" I am a great cat lover. → blog
Profile summary of Japanese calligrapher
・Name Shuka Tonegawa(Calligrapher)
・Address 3-2-4-407 HigashiIkebukuro, Toshima-ku, Tokyo 170-0013
・Phone  Home 03 (5952) 1667   Mobile 090 (1803) 8387
・URL: http://www.syuuka.com
・E-mail: shuuka2367@outlook.jp
*November 1981, became a Master Calligrapher of Japanese Calligraphy from Ryo Un Shodo Kai.!
*October 1989, became a Master of Pen Writing from Pen Jidai Sha.!
*October 2008, became a Master of Chinese Calligraphy from Yuhou Bunka Geijutsu Gakuin.!
*Won a prize in Yomiuri Exhibition
*Won an International prize in 21st Century
*International Calligraphy Exhibition sponsored by The Sankei Shimbun, and became a non-inspection member.
*Won a Tokyo Shimbun prize in All Japan and China exhibition, and became a non-inspection member.! !
Modern Hand-Copy Exhibition and Awards
*December 2010 Participated for the first time, and won an Excellent Work prize.
*December 2011, won a Second Place, and became a non-inspection member.!
*December 2012, won an encouragement prize.
*December 2013, won an encouragement prize, and became a commissioner.
*1December 2014, won both Sofu prize (the best prize), and Hand-Copy Recommendation in Modern HandCopy Exhibition.!
Works Regarding Calligraphy
★April 2015, Instructor for Chinese Calligraphy Course at Confucius Institute at Kogakuin University
★ Appeared as an instructor in "Marutoku Magazine – Let's start hand-copying of sutras" @NHK (Japanese Broadcasting Corporation)
★ Interviewed by "Mezamashi TV" the TV program.
★Interviewed by "News Watch 9" @ NHK
★Appeared in TV programs "Waratte Iitomo" etc
★Interviewed by, and appeared on "Sumi" published by Geijutsu Shinbun Sha for the article of popular calligraphy school.
★The title lettering of "Japanese Mystery Samurai Drama written by Seicho Matsumoto" on BS Japan
★The title lettering "SEKAI(world)" of the movies.!
★Published a textbook, "Marutoku magazine-Let's start hand-copying of sutras" from NHK Publishing.
★Published "Write in hand-copying of sutras workbook" from NHK Publishing.
★Published "Workbook of Hand-Copying of Sutras"! published by Seibido Shuppan. !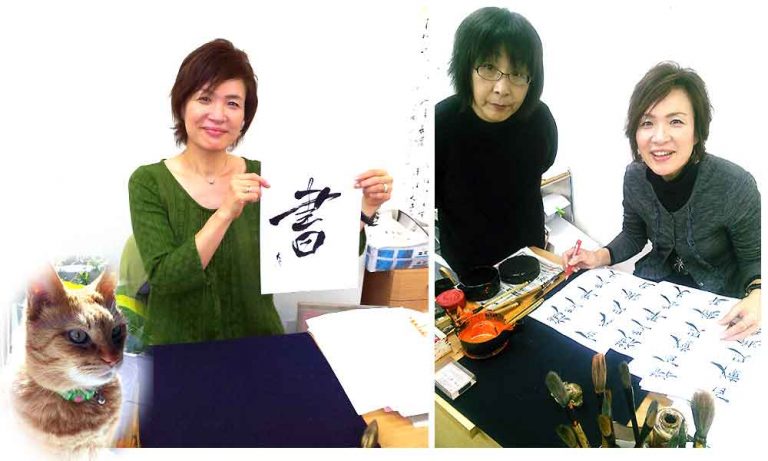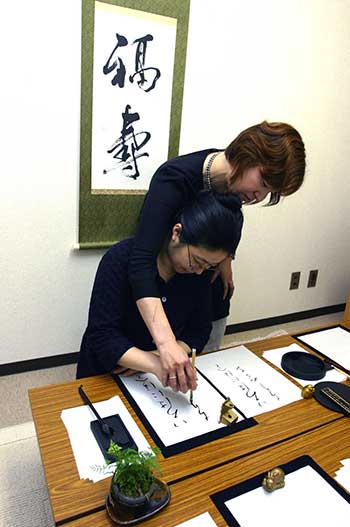 I wrote only a scribbled character routinely before I began a pen character, so i thout of curing my messy handwritting and began pen character.

I used to write characters with strong pressure of apen, so there was something peculiar and heavy about the characters that i wrote.